After School-STEAM Academy
Maren Chewning- Maren@sccsc.org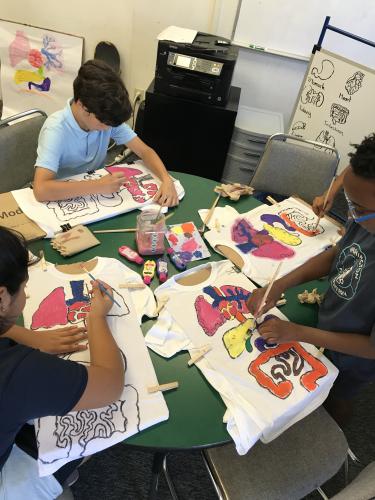 Our Mission
The mission of our expanded learning program is to provide innovative, youth-driven, high quality out-of-school-time opportunities that include building school-community partnerships, engaging families to participate in their children's learning, and learning through project-based enrichment that complements the school day.
STEAM Initiatives
STEAM Academy begins directly after school dismissal. Program staff pick students up from their classrooms and walk them to their assigned STEAM classrooms.
During our before and after school programs, Team Leads (before and after school instructors) develop strong and enriching lessons based upon our agencies initiatives; STEAM, Social and Emotional learning, Social skills, Health and Wellness, and, Literacy. Lessons are presented to students through project based learning. It is our mission to provide a fun, safe learning environment that fosters independent thinking skills as well as collaborative learning.
Our program utilizes 4 classrooms, the Library, Playground, Cafeteria and indoor/outdoor stage. Activities include the Arts, Improv, Dance, Drama, Science and Sports.
Snack is provided in the afternoon. EK/Kinder students have snack at 2:30PM while 1st-6th grade students have snack at 3:15PM.
Clubs and Sports (dates and time TBA)
-Dance Club (TBA)
-Soccer(TBA)
-Basketball (practices start in February)
-Brazilian Capoeira Classes (Spring)
-Chess Club (TBA)
We will no longer be hosting STEAM flag football, as the school district has assigned Washington Elementary to host their own team.
Our before and afterschool child care is tuition based. To see if you qualify for fee assistance and tuition coverage, please visit Child Action at https://wp.childaction.org/cel/